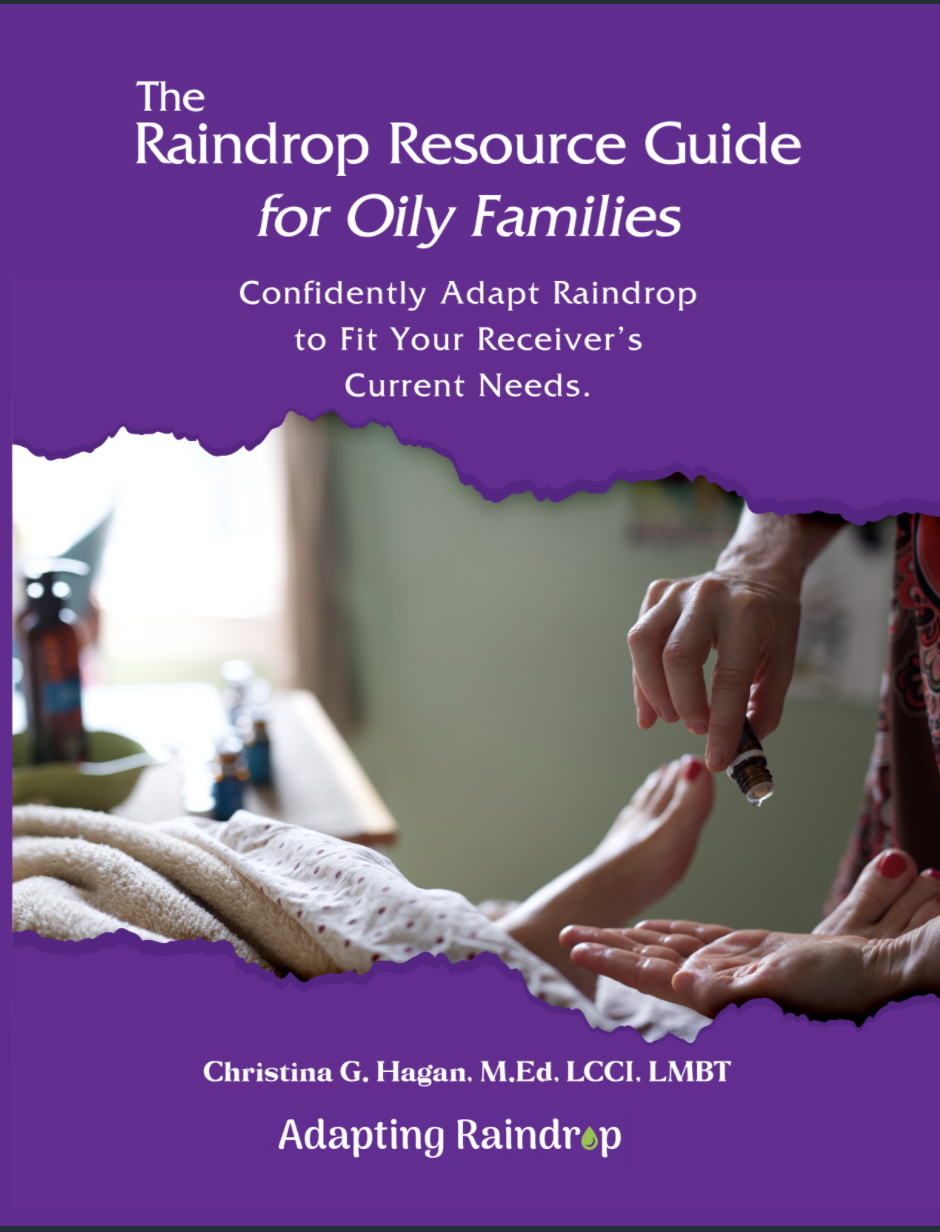 You've learned Raindrop, but now you have some questions, Whether you learned Raindrop at a three-day training, from a friend, from a book, or by watching a video, this book is for you!
This Raindrop Resource Guide answers all the common questions that many new and seasoned 'Oily Families' ask themselves about Raindrop.
The concepts taught in this book will allow you to confidently tailor or adapt the Raindrop experience to fit the current needs of your friends and family members.
You'll also learn practical tips that make Raindrop an easy and flexible tool, which allows you to use this technique to support your family's total wellness anytime.
As support to Part 2, Comfort of the Receiver, you'll find a link to videos that complement each of the adaptions discussed in the book. Use the Notes Pages to jot down your thoughts as you watch each short video.
"This is a tremendously valuable resource for families who practice Raindrop Technique! Christina has not only answered the FAQs of Raindrop, but has also presented valuable tips for adapting this technique for special and unique situations that will undoubtedly arise as you perform Raindrop for family and friends. Every oily family should have this book in their library."
"Get your questions answered in 1 Quick Reference guide! I have been a licensed Practicioner for 7 years and this guide is a VERY helpful tool in trouble shooting and giving guidance. I strongly reccommend it."
"I have read this book and feel it is a great reference tool and affirmation of the power of the Raindrop Technique. It has so much information from the basics, to if something unusual or more advanced comes along in a raindrop setting and you're just not sure what to do. Great insights! I appreciate the pictures for clarity of position or techniques. One of my CARE students bought one as soon as she saw it on my shelf!"
Part 1: Tailoring the Oils
Chapter 1: Time to Answer Those Questions.
Chapter 2: The Basic Recipe
Chapter 3: Adding Other Oils
Chapter 4: Raindrop Is Just Like Cooking
Chapter 5: All About the Base
Chapter 6: Just Give 'Em A Quickie!
Part 2: Comfort of the Receiver
Chapter 7: Giving Raindrop When You Don't Have a Massage Table
Chapter 8: Keeping Your Receiver Comfortable on a Massage Table
Chapter 9: Giving Raindrop During Pregnancy
Chapter 10: Giving Raindrop to Babies and Toddlers
Part 3 Special Considerations
Chapter 11: Special Considerations
Chapter 12: Continue Growing
Chapter 13: Popular Educational Programs
Add Your Review for this Book!